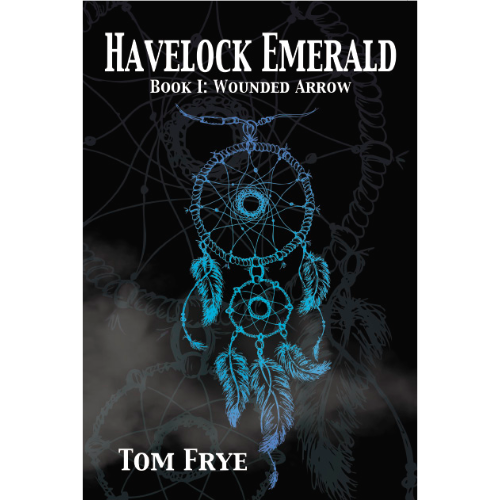 Wounded Arrow 
Book One of the Havelock Emerald series

In this Mythic Fantasy series, the Havelock Emerald is an Irish pub located in the small suburb of Havelock, Nebraska. The Emerald's iconic stained-glass window, depicting a black dragon carrying a bright green emerald in its talons, was gifted to  Billy Connors by a Gypsy Chieftain back in Ireland years ago. In the pub is a gateway to an alternate reality. Old Billy is an Irish gunrunner and the gatekeeper linking this world with the alternative realms beyond.  The first two books in the series sets the stage for the main characters' interaction with Billy and his "waystation" to the Otherworld.

Enter the main character, 11-year-old Lucas Holland, a foster kid with a real bad disposition, who meets a foster dog with an even worse attitude than his. When Lucas, the son of the president of a notorious biker club, is placed in foster care due to an altercation between his dad and his mom, he ends up in the home of a police officer. The turmoil of living in a home with boundaries stresses him out. When his family support worker, Ben Black Bull, escorts him to anger management, Lucas races to a downtown parking garage, where he threatens to jump to the street sixth stories below. 

While Ben performs crisis intervention, Lucas looks down to a car stopping in the street far below them. When the driver of the car tosses two pit bulls out onto the downtown sidewalk, Lucas switches out of crisis mode and saves Goblin, the pup. He and Ben are both confronted by the larger pit, Grunge, a legendary fighter. Ben drives Lucas and the two dogs to Wounded Arrow, his dog rescue ranch where the Lakota dog handler works with some of the most damaged dogs on the planet. Ben incorporates a company of veterans who suffer from PTSD, pairing each dog with a wounded warrior. It's there that Lucas learns that dogs and people all need healing of some sort.