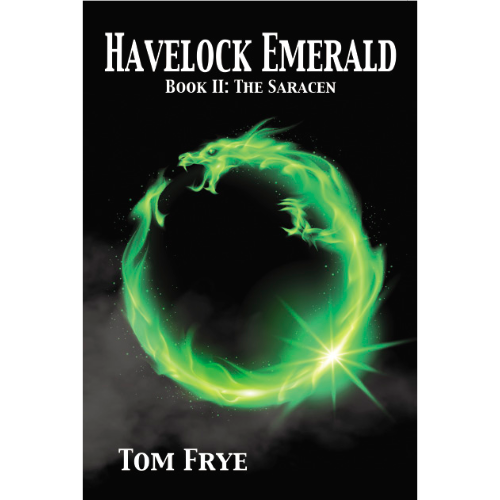 Book Two: The Saracen
Shortly after his mother is killed in a car accident. Lucas leaves foster care at Wounded Arrow and returns home to Havelock to live with his dad. At his elementary school, Lucas stumbles upon three Muslim boys forcefully recruiting a young Muslim boy to carry out a school shooting. Lucas intervenes on behalf of Ali Kharim and comes away from the encounter carrying a pistol with scorpions engraved on its pearl handles. Little does he know, that inserted into the butt of the gun is a flash drive.
While Homeland Security Agent Gloria Raynes teams up with K9 Officer Beef Tory to locate this flash drive, Lucas makes their job difficult due to his behavior disorder. His dad, Stone Holland, is the president of a notorious biker club, the Elder's Den, and an ex-Delta Ranger who was involved in a cat-and-mouse game with extremists in Mosul, when he and his team of dog handlers discovered two ex-ray machines with enough radioactive material to make a dirty bomb. Stone has his own theory about the mass-Muslim migration, which is why Lucas is reluctant to help Ali's father, Khalid, an anti-terrorist secret service agent who is here tracking a group of Iranian extremists waiting for a green light on a terrorist plot. 
The flash drive contains the directives to these Muslim terrorists: To infiltrate the dog compound of Wounded Arrow, where 200 Military service dogs have recently been returned from the war over-seas. Their goal is to place a chemical agent in the ventilators of the compound located outside of Havelock. By doing so, they will succeed in psychologically attacking Military dog handlers by eliminating these retired service dogs awaiting adoption as a reward for the service they provided to the US. Some of these dogs shamed the extremists in Mosul, when they discovered the ex-ray machines, making them look really bad in the eyes of the world.  
While the central plot is to prevent this attack on the dogs, Lucas learns a lot about Islam through Ali and his father, Khalid. Despite his own father's bitter hatred of anyone Muslim, Lucas comes to realize the difference between Moderates and Extremists, and yet the story takes an honest look at these "guests" to their "host" society.